Introducing the 20 unique things to do in Siem Reap! From the temples to meaningful travel experiences worth a shot, the Backstreet Academy Team brings you the best of impact travel. Think stone carving workshop with an Angkor restoration artisan, Insect cooking classes with a street food vendors and rice farming with local farmers. Unique, memorable and impactful, all at the same time. Your Backstreet hosts are locals who used to be in poverty, now trained by Backstreet Academy as micro-entrepreneurs, and they make up to 2-3 times their usual income by hosting travelers like you, showcase their tradition and heritage while doing what they love. Check out our pick of the best unique things to do in Siem Reap!
1. Angkor Wat Complex
The Angkor complex needs little introduction as one of the world's most well-known UNESCO World heritage site. Boasting well over 1,000km2 of archaeological grounds, you can take up to a week to fully discover all of its treasures and millennia old stories. Most tourists generally take a 1 or 3 day tour before they are fully templed out with the throngs of tourists visiting everyday. If you're one of them check out our Things to do in Siem Reap besides temples for some non-temple entertainment!
Within the Angkor complex are tons of smaller temples each with its own amazing story and legacy. The most famous one is obviously Angkor Wat, the temple at the centre of the complex dedicated to Lord Vishnu and also the funerary temple to King Suryavaman II. Angkor Thom is the wider complex surrounding Angkor Wat, Bayon Temple is where the famous 4 faced Bodhisattvas reside, Ta Phrom is where Angelina Jolie traipsed through as Tomb Raider and the terrace of Elephants are where the King used to conduct gigantic military inspections and perform send-offs and royal receptions for the departing and arriving armies. You can easily find a tour guide at any hotel or tour agency in town and get the same story rubber stamped by the tourism authority. But if you're looking for something different, get Youen Leak, a local temple tour guide who also does off the beaten track experiences on Backstreet Academy or try rolling into Angkor on a Vespa with Vespa Adventures Siem Reap!
2. Temples outside the main Angkor Complex
While Angkor Thom, the main Angkor Complex gets the majority of visitors, there are a couple of other temples that really deserve more recognition and conservation. Here are 3 of our top picks!
Koh Ker
Koh Ker was at its heyday once the capital of the Angkor empire, although just for a short 16 years. Lots of temple ruins remain here in various states of disrepair, but one temple still stands imposing – The Prasat Thom 7-tiered temple. It looks more like an Aztec stepped pyramid than most of the other temples, so makes for a refreshing change! There are much fewer tourists here too, as it is more than 80km and 2 hours away from Siem Reap Town.
Banteay Srei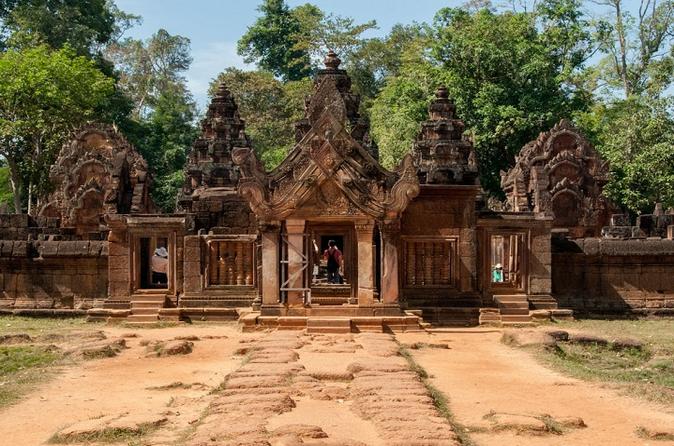 Banteay Srei was built interestingly by a Brahmin counselor to the King, and it is known as the citadel of the women. Fitted with pink sandstones and overwhelmingly depicting female subjects, no one is quite sure what this is used for. Located over an hour from the main town, it's also not as popular and makes for a nice quiet side trip.
Baphuon Temple
Located nearby to the main Angkor complex, Ba phuon is a majestic 3 tiered temple built in honour of the Hindu God Shiva. Restoration attempts have been unsuccessful so far but it's a beautiful crumbling site, as ironic as it seems. It is more accessible than the other 2 but less visited due to the state of disrepair.
3. Stone Carving
After visiting countless temples and marvelling at their intricate stone carvings, this stone carving workshop is the perfect experience as it will make you completely appreciate the work put in by thousands of artisans who built the Angkor temples! Try carving a beautiful candle holder with intricate carvings under the tutelage of an Angkor restoration carving master and it will make your Angkor trip so much more meaningful!
4. Cambodian Boxing Experience with a Grandmaster
A Lesser known sport compared to its Thai counterpart, Muay Thai, who knew Cambodian boxing was actually the original sport before it got popular? Only in Backstreet Academy Siem Reap's Cambodian Boxing Experience with a Grandmaster you'll get to train with a master of the art, together with champions who fight day in day out, at a competitive gym, even if you're a total beginner. And they welcome you with open arms!
5. Rice Farming, Net Fishing and hunting with local farmers
Looking to connect more with nature and understanding local agriculture practices? No better way than to visit a local farmer's abode and do rice farming with them the same way it has been done for centuries! Your experience would vary based on the season but every season has its own highlights, whether it's planting rice or harvesting rice. Farmers also commonly fish in their rice fields with nets, and this is an amazing experience as well. Click here to book for rice farming with a local family and here for net fishing with local fishermen and even hunting and fishing with Koukdong community.
6. Phare: The Cambodian Circus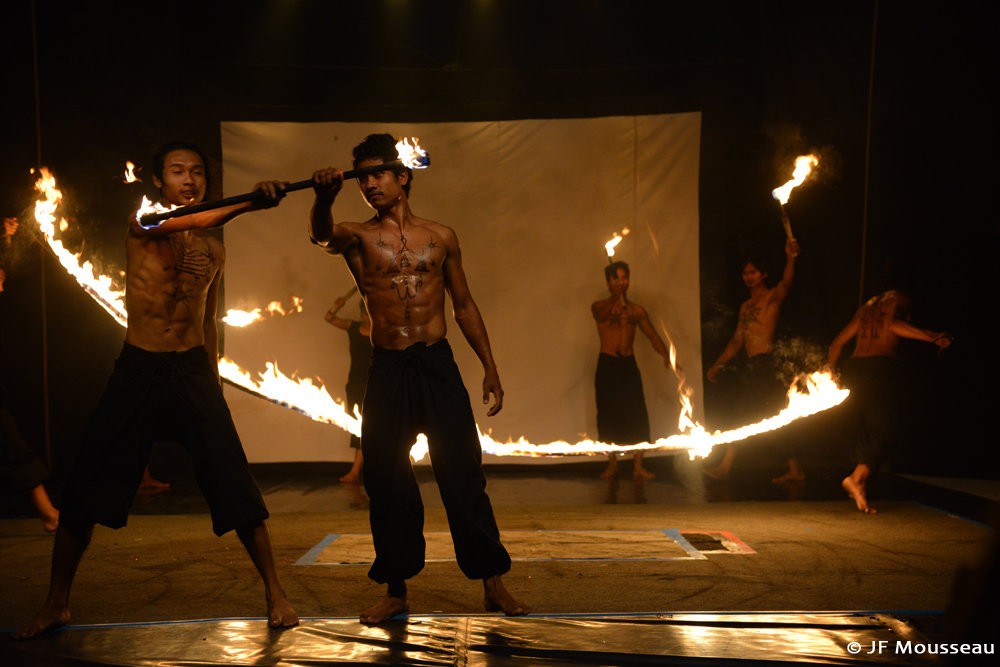 Photo Credit: Phare
This award winning circus is a model social enterprise visited by the likes of Nobel Peace Prize laureate Muhd Yunus. They help youths out of poverty by giving them vocational training and helping them stage performances like this. Not to worry, no animals are used in this circus and everyone is very well taken care of. Their performances are often raved about and are easily booked out in advance. Pre-book Phare tickets easily on Backstreet Academy.
7. Wood Carving Workshop
The Angkor capital used to attract the best craftsmen in the region to satiate the demand from the palace. Skilled craftsmen came as far as the middle East and Indonesia, and this tradition has continued all the way until today, but is at the verge of dying out due to the lack of interest from youths to learn the craft and a lack of demand for hand crafted wood items. Mr Un Ann, a disable artisan at the handicrafts association has kept the skills passed down from the previous generation and now runs amazing in-depth wood carving workshops where you can craft a variety of items! Mr Klei on the other hand specializes in the Palm wood carving experience which has a completely different texture and look. Ch
8. Make a cement bag
The cement bag you see everywhere in the night markets is quite the fashion statement, if only they were more well-made. An influx of cheap imitators has brought down the appeal of the entire product segment, but it is actually a great idea, given how strong cement bags are and how important it is to recycle them. So how about taking quality into your own hands and sew one yourself under the supervision of a skilled seamstress? Customize it all you want and call it yours at the end of the day! Just can't complain about the quality anymore though! Experienced seamstress Ms Keo Borie runs her Cement Bag Making workshop on Backstreet Academy on-demand, book ahead to ensure a spot!
9. Picnic like a local on Road 60
This little stretch of road is the place to go for all-local Cambodian grubs! You'll see a much higher proportion of locals here at very wallet-friendly prices. Be prepared for more than just tarantula stalls though! Though there are still many normal delicacies to be had. A perfect local Cambodian experience not to be missed. Check out the ever-affable Soy Kosal's street food evening tour here for the best recommendations and the easiest way to walk through the not-so-easily-navigated-by-foreigners local market.
10. Iron Pencil Sketching
An amazing craft driven by the artistic excellence of one legendary man, Mr Bunhak, this art involves the intricate art of using heated iron pencils to burn complex patterns onto dried palm leave boards. Sounds tough? Patterns as complex as the Angkor Wat is one of the many pieces Mr Bunhak churns out everyday at his workshop. Backstreet Academy is probably the only place you can see his pieces and not only that, but book an Iron Pencil workshop to learn this legendary craft from the legendary man! You can also check out a snippet of this amazing art-form on youtube!
11. Fear Factor Cooking class, Evil cuisine
As you probably know, Cambodians eat insects. But not just any insects. It's the black hairy tarantula that's the most famous here, in addition to the usual crickets, grasshoppers and dragonflies. Eating is easy, anybody can do that. How about learning how to cook it! Now it's not as simple as simply throwing them all into the oil and fry… The Tarantula needs to be de-fanged, marinated and washed, all while being alive. Can you handle that? That's the fear factor challenge Siem Reap for you! Or if creepy crawlies are not your type, you can also see how witches used to brew their stew with the Evil Cuisine Experience where you learn how to prepare and cook witch-worthy stews with a local chef using things like frogs, snakes, red ant (with their eggs) and silk worms.
12. Art Classes: Spoon painting
Looking for something thereaupatic and artistic? Meet up with a local artist who churn out the zillions of Angkor Wat and Tonle Sap paintings you see in the markets! They are however way better than that, except that the retailers rarely recognize the value of original art and just demand for the usual fare. Book a spoon painting workshop with local artist Svay Em and have a cultural exchange in the arts, or if you're an absolute beginner, just revel in the learning of Cambodian techniques such as spoon painting.
13. Knife Making Workshop
Knives have always been intriguing, especially on travels. They are regular appearances at night market booths and travelers are always grappling with whether they can bring it home. You can actually easily bring it home in your baggage, but what's the fun of just buying one from the stall? How about hand-crafting it yourself? Now you can with Backstreet Academy's Medieval Knife Making Workshop with local Blacksmith Mr Ty Prom!
14. Crossbow crafting
Or if knives are not for you maybe you're the archer sort. Not to worry, Cambodia is the land of plenty and there's something for everyone! If Mr Ty's innovation in tourism products didn't appeal to you, maybe Kosal's crossbow crafting workshop is! Customize it, Craft it then disassemble it to bring home!
15. Copper Bracelet and Copper wires crafting
Ever wanted to start your own jewellery business? Start experimenting with copper! Backstreet Academy hosts Ms Sok opens her family workshop handed down from generations for travelers to appreciate the fine art of metalworking. Book a copper bracelet workshop for an intimate experience with one of their experienced craftsmen to show you the process. Mr Bel, a landmine survivor has enterprisingly set up his own copper wire jewellery shop and now hosts copper wire jewellery workshops as well. Amazingly resilient and hardworking, he has a smile radiating sunlight and you can be sure of a great customized piece of jewellery as well!
16. Cambodian Cooking and Cocktail class

Unbeknownst to many, Cambodian cuisine is actually pretty sophisticated and full of complex flavours! A cooking class here is warranted to find out more about the full range of spices used and how they affect the tase. A Cambodian cooking class by chef Ratanak is one of the unmissable ones if you're interested in culinary arts. The spices even extend into your alcoholic drinks! Try a Cambodian Cocktails making class by the lovely Little Pari to see how the taste of Cambodia is blended into your drinks, both on the spices level and on the base drinks level where interesting things like rice wine come into play. Classes happen nightly at only US$15 including 3 drinks! A total steal.
17. Apsara Dance Experience
Apsara dance is known to be one of the most difficult traditional dances, with its multiple bends and elaborate equipment. Used to be reserved only for elite dancers at the royal academy, the art form has been slowly opening up, and today you can even book an apsara dance experience complete with traditional costume with one of the dancers at the royal academy right here on Backstreet Academy!
18. Coconut Carving
Cambodians don't let anything go to waste, and why should an amazing material like coconut husk go into the bin! Coconut husks are not only hard and tough, but they have beautiful and complex patterns on their shell as well, and with a bit of polish it will stand out like a coconut tree. Take a coconut carving workshop here with skilled craftsmen at the Angkor Handicraft Association and make a customized coconut keyring for yourself to bring home.
19. Ox cart tour into the sunset
Tired of tuktuks, motorbikes and tour buses? Take the always-in-style, Cadillac of the age before the steam engine, the Ox cart. There's no better way to while away an evening in Siem Reap than to roll across rice fields on a little ox cart with your friend or family accompanied by the tranquil jingle of ox bells. Book an Ox cart tour ride here to avoid disappointment!
20. Buddhist Water Blessing Ceremony
If you're interested in religion and culture, this is an opportunity to meet local monks from the temple and experience a traditional Buddhist water blessing ceremony! You'll get wet, but what's that compared to a lifetime of good fortune and god smiling on you? The heavens aren't open everyday so book the Buddhist Water Blessing Ceremony a few days in advance on Backstreet Academy!